Smoked Tuna Dip
Served with Pita Chips, Cucumber Slices and Celery.
Peel & Eat Shrimp
Gulf shrimp slow boiled and shaken in Bay seasoning.
Fried Grouper Nuggets
Battered, breaded, and fried large Grouper bites.
Boom-Boom Popcorn Shrimp
Shrimpy's shaken in a sweet and spicy sauce.
Fried Dill Pickle Chips
Crinkle cut dill pickle slices in batter & breadcrumbs. Served with Boom-Boom Sauce.
Fried Okra
Our battered, breaded and deep-friend Southern Okra.
Fried Calamari
Our deep fried mild and slightly sweet squid dish.
Fried Crab Claws
Sm (6-8 oz.) | Market Price
Large (10-16 oz.) Market Price
Soups
Our soups and salads have been developed by Captain Joeys over the last three plus decades.
Seafood Gumbo
A recipe that has been perfected over 31 years. Our gumbo is unlike any other you will find on the gulf coast.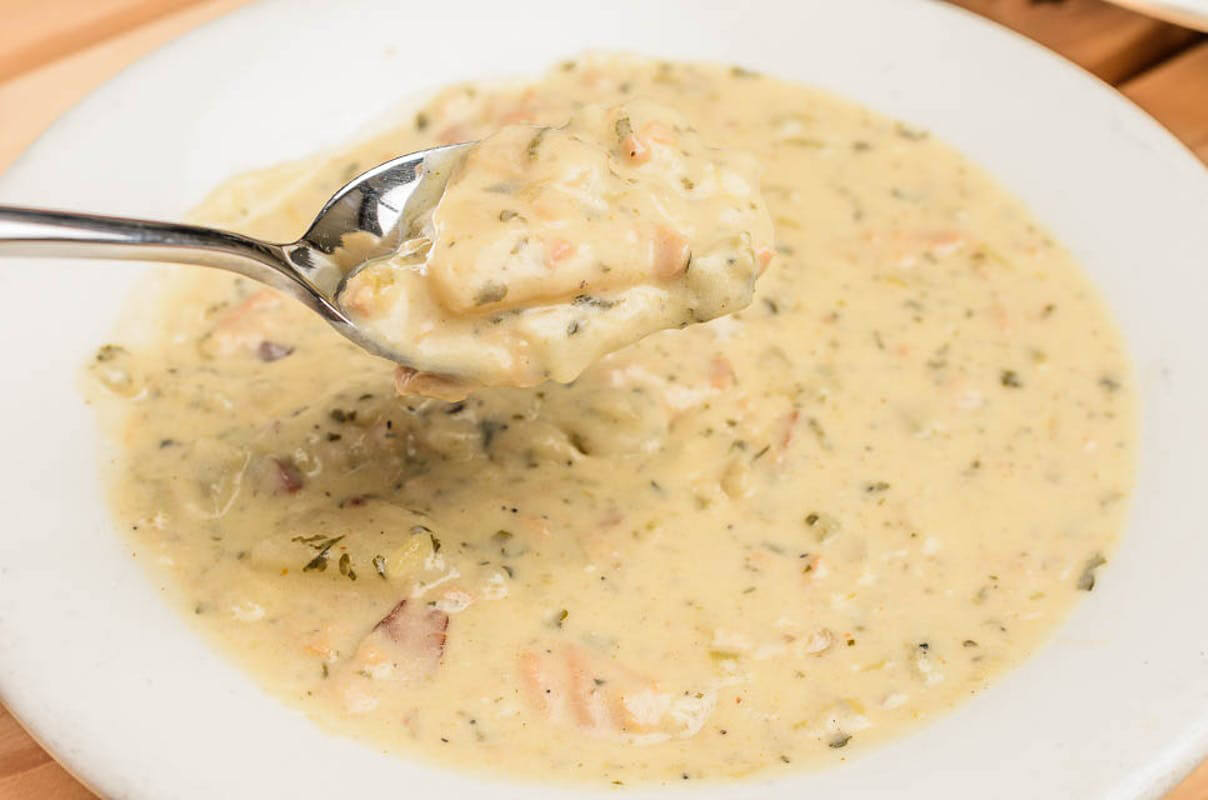 New England Clam Chowder
* Served on Wednesdays Only. Smoked bacon, fresh onions and celery, simmered with ocean clams, potatoes and finished with a heavy cream to make the smoothest chowder ever.
Shrimp Creole
* Served on Thursdays Only. Shrimp in a spicy red sauce with fresh vegetables & 12 spices, simmered to perfection.
The Captain's COBB Salad
Salad & Spring mix topped with a perfected layout of Mix cheese, tomatoes, egg, bacon, grilled chicken & Cucumbers. It's our masterpiece.
Salad & Gumbo
Our dinner salad and Small Gumbo.
Shrimp Pasta Salad
Shrimp & Shell Pasta in a Gulf coast Mayo With wonderful seasoning and just a tad spicy. Made fresh daily.
Our Signature Salads
All of our salads are built with Spring Mix, Tomatoes, Bacon, Cucumbers, Feta, Mozzarella Cheese and Love.
Choose Your Favorite Topper:
Garlic Grilled Grouper: $18

Grilled & Seasoned Mahi: $17
From The Grill
All grilled items have a Blackened option for an additional $0.50 upcharge.
Grilled Mahi Over Rice
Seasoned & Grilled Mahi-Mahi in Lemon Butter. Served over Rice and topped with our Mango Pico. Choose another side. We suggest the Veg of the Day.
Garlic Grilled Grouper
Garlic seared Grouper served over Rice & Soy Sauce, Spring Mix and Sesame Ginger. Choose another side.
Grilled Shrimp Specialty
We start with a light amount of Spring Mix and a Drizzle of Sesame Ginger topped with Grilled Gulf Shrimp. Served with your choice of 2 sides.
Grilled Mahi Fish Tacos
Two stuffed flour tacos with Seasoned Mahi, Pickled slaw, Remoulade Sauce and our Mango Pico. Served with Pita Chips & Salsa.
Lightly Blackened Salmon
We remove the bloodline for a clean tasting Salmon. Please choose 2 sides.
Grilled Shrimp & Southern Grits
Blackened Gulf Shrimp sauteed in a cream sauce served over our Cheesy Southern Grits. Served with Lemon Butter toasty's.
Combo Platters
All combos are served with your choice of 2 sides and 2 hushpuppies. Premium sides are an additional upcharge.
Captain Joey Platter
This is the "Big Haul". Crab Patties, Shrimp, Oysters and Basa / Swai. Change Basa to Grouper for only $4. Change Basa to any other fish for only $1.
Seafood Platter # 1
Oysters, Shrimp and Basa/Swai.
Change Basa to Grouper for only $4.
Change Basa to any other fish for only $1.
Seafood Platter # 2
Basa / Swai & 10 Shrimp.

Change Basa to Grouper for only. $4.
Change Basa to any other fish for only $1.
Seafood Platter #3
Shrimp, Scallop & Oyster Combos.
Change Basa to Grouper for only $4.
Change Basa to any other fish for only $1.
Gulf Coast Shrimp & Fried Oyster Combo
Fresh Gulf Shrimp & hand breaded oysters fried golden brown in our special batter.
Platters
All our platters are served with 2 hushpuppies and 2 sides. Premium sides are an additional upcharge.
Fried Gulf Shrimp Platter
Yes, these are the REAL thing, not farm raised but straight out of the Gulf, peeled & deveined in house with a very distinct sweet flavor. Best in town!
Flounder Platter
Our Flounder is a mild tasting fish with slight sweetness and a delicate, flaky texture.
Mullet Platter
Fried mullet is a gulf coast tradition that has truly survived the ages. This is the freshest mullet in town.
Basa/Swai Platter
Delicious white meat fish and one of our most popular items.
Catfish Platter
Our Gulf coast catfish has a sweet mild taste, dense and firm.
Catfish Special
Fried catfish served over a bed of white rice topped with an etouffee style sauce.  Served with 2 hushpuppies only.
Grouper Platter
One of our biggest sellers, popular with locals and tourists.
Popcorn Shrimp Platter
Calamari Platter
Chicken Tenders Platter
White chicken strips fried to perfection.
Crab Patty Platter
Crabmeat, Italian breadcrumbs, mozzarella cheese, diced onions, and green pepper balled together and fried to perfection. This is not a traditional crab cake, but it is one of Grandma Patti's own recipes.
Fried Oysters Platter
We use the freshest oysters, hand breaded then fried in our special batter. Oyster size may vary. Ask server for size.
Lunch Bites
All Lunch Bites are a smaller version, served with 2 hushpuppies and 1 side. Lunch Bites are served from 11-4 daily.
Lunch Grouper
Lunch Flounder
Lunch Mullet
Lunch Basa/Swai
Lunch Catfish
Lunch Chicken Tender
Lunch Fried Gulf Shrimp
Lunch Scallop and Shrimp
Lunch Oyster & Shrimp Combo
Scallops
This is the real thing! Pearls of the sea!
Add 4 to any meal for $7
Po-Boys
Served on a toasted Po-Boy roll with fresh shredded lettuce and tomatoes along with your choice of cocktail or tartar sauces served on the side. All Po-Boys come with your choice of Fries or Grits. Ask your server for all options.
Oyster Po-Boy
Grouper Nugget Po-Boy
Popcorn Shrimp Po-Boy
Fried Shrimp Po-Boy
Grilled Grouper Po-Boy
Chicken Tender Po-Boy
Grilled Mahi Sandwich
Seasoned Mahi on a toasted bun with lettuce, tomato & Remoulade Sauce. Add Cheese + $1.
Hamburger
Angus beef patty on a toasted bun with lettuce, tomato and pickle…..$12.
Add Cheese: $2
Add Bacon: +$2
French Fries
Cheesy Southern Grits
Buttery Parsley Rice
Vegetable of the day
Cole Slaw
Baked Beans
Hushpuppies
Onion Rings
Jalepeno Hushpuppies
Add on to a meal $2 count is 4
Sweet Potato Fries
Dinner Salad
Gumbo
Vegetable Special
Homemade cakes by the slice.
Red Velvet, Mandarin Orange, Carrot Cake, Chocolate.
New Orleans Bread Pudding
With a drizzle of bourbon caramel sauce.
Key Lime Delight
4 Scallops $7
6 Gulf Coast Shrimp $8
6 Oysters $10
3 Crab Balls $14
Beer – Wine – Cocktails
We serve an assortment of Craft Beers from local breweries as well as a nice selection of wines.
Beverages
We proudly serve Coke Products & Red Diamond Tea & Coffee.
All coke products: $3
Tea: $2.5
Coffee: $2.5
Kids Meals First mate plate:-
Kid Corn Dog: $4
Kid Fish: $5
Chicken Tenders: $6
Shrimp: $7
Popcorn Shrimp: $6
Dine-In or To-Go.
TRY OUR MANGO GREEN TEA FOR $4
While preparing oyster & crab products for serving, pearls, shell fragments and shell residue may be retained in the serving that may cause dental damage. We will not be responsible for paying the cost of repairing any damage done by these objects.
We are committed to providing the Freshest Seafood Possible as we have been for over three decades.
"Pensacola's First Family of Seafood"
values your patronage.
BUY A ROUND OF BEER FOR THE KITCHEN $10